Optimise invoice processing with Purchasing and Accounts Payable Automation
Purchasing and Accounts Payable Automation will supercharge your business with touchless, streamlined invoice scanning, capture and processing.
Simplify workflow and accelerate processing with Esker
Offering a 360° view of your cash management, Esker's cloud-based platform spans the entire P2P process — helping finance teams effectively manage compliance, gain complete process visibility and free up time for more rewarding work. 
Accounts Payable Automation is here, and it's never been easier for Kiwi businesses to take advantage.
Empower your team with actionable data
Intelligent dashboards with packaged KPIs allow users to customise what AP-related metrics are displayed on their interface. This allows every action — from performing daily tasks to monitoring budgets — to be more strategic and value-added.
Real-time business trends in easy-to-read charts and reports
Personalised user workspace with unlimited capacity
Simplified global management of AP shared services centres
Daily metrics that matter to each AP team member
Data available on the go with Esker Anywhere™ mobile app​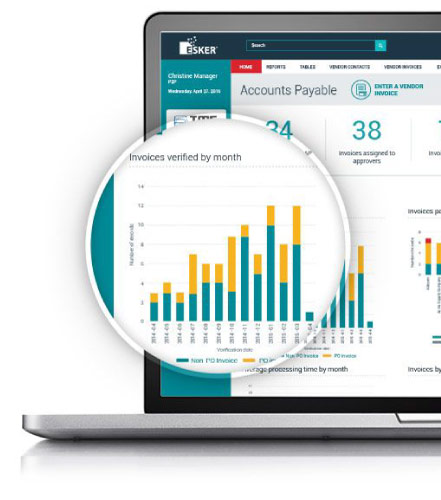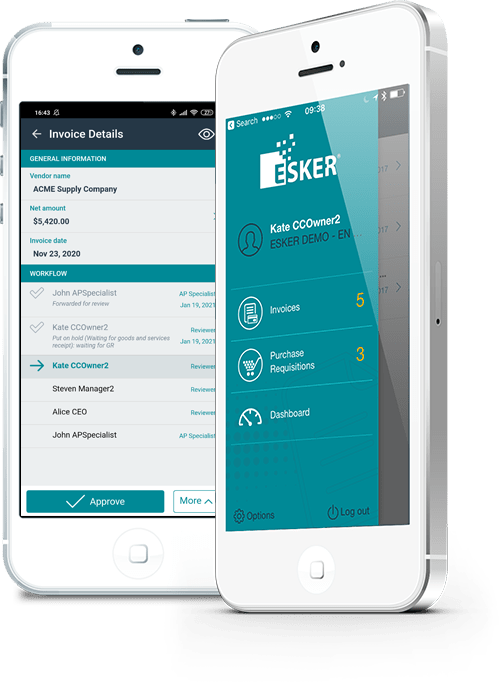 Working remotely?
We have you covered
The Esker Anywhere™ mobile application allows you to:
Easily approve invoices and purchase requisitions anytime, anywhere from your Apple® or Android™ device.
Quickly resolve exceptions and approvals to help improve supplier relationships.
Increase efficiency in the purchase-to-pay (P2P) process thanks to fewer slowdowns and faster approvals.
Track key metrics while working remotely via customisable dashboards.
Discover 5 Accounts Payable Automation KPIs worth tracking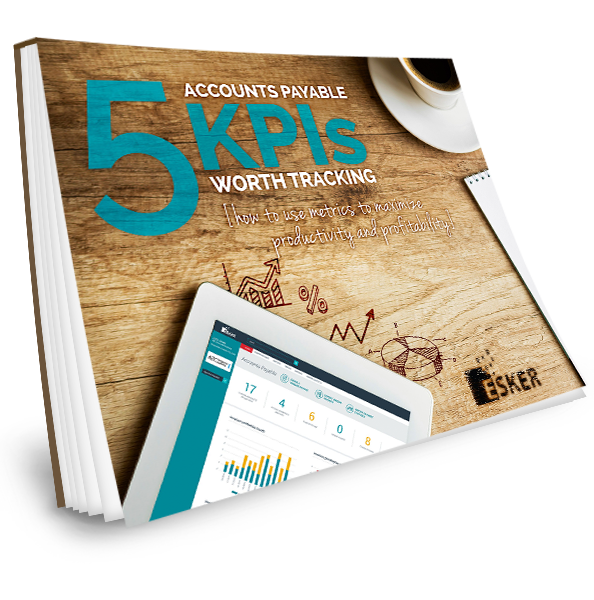 Key performance indicators (KPIs) act as a compass for making informed, strategic business decisions and measuring company success. Are you tracking the right ones?
Features to help you work smarter, not harder
Esker's integrated cloud platform is built off of 35+ years of field experience and features a wide range of intelligent and powerful functionalities, including:
AI-driven data recognition​
Utilising automation, machine learning, and deep learning, Esker's AI engine handles structured and unstructured data with ease, even splitting multi-page invoices.
Esker further streamlines your invoice management by enabling processing in any format, whether received by mail, email, fax, EDI or any other input channel.
User friendly EDI invoices
Esker converts EDIs into readable PDFs allowing you to onboard suppliers faster, maximise touchless processing, and end the reliance on IT support for EDI issues.
Esker unifies processing across departments by having standard connectors for SAP®, Oracle® and Microsoft while providing simultaneous integration with over 70 ERPs.
Esker's auditing capabilities ensure you maintain compliance (enabled by the NZBN) in whatever technology you choose: E-signatures, BCAT, EDI, Archiving.
Self-service access lets suppliers submit invoices directly on the portal and see when they'll be paid, saving you time previously spent fielding invoice related calls.
What stood out about the Esker solution is that it promised to quite literally put AP in your pocket with a mobile app. That impressed everyone, from the board down. We wanted something that would work for the tech-savvy just as well as it would work for those who are not.
Esker has accelerated our Accounts Payable process, and it has relieved the pressure on staff members who were feeling pushed to the limit.
Due to the automation Esker provides, we have eliminated the need to print out invoices and removed the growing frustration around the business at the paper-based system.
Discover what's possible for your business.