Goodbye data entry.
Hello efficiency with Order Management Automation.
Eliminate the pains of manual order processing with order management automation, giving you AI-powered data capture, touchless processing, and digital workflow capabilities.
Why automate sales order processing with Esker?
Sales order processing is tied to customer experience as well as your company's O2C success. Any loose ends and the whole thing can unravel. That's where Esker comes in. Our order management automation system addresses the most manual areas of order taking through a centralised, cloud-based platform.
Equip your customer service team with the tools to shine.
Customer service can be a stressful, thankless department. Be the hero your team (and customers) need with Esker's Order Processing solution. With an easy-to-user interface, customisable dashboards and self-service portal, customer service leaders can:
Eliminate backlogs from one day to the next
Expedite CSR productivity via automatic verifications
Allow CSRs to quickly and easily handle claims management
Free up time for upselling and more strategic activities
Create a happier, more fulfilling team environment
Critical metrics have nowhere to hide.
Automation rates. Processing times. SLA compliance. Ever wonder what metrics you're missing out on? With Esker's intelligent dashboards, every user — even those on the go — can access pertinent order information at the click of a button.
For compliance purposes, Esker also keeps a complete audit trail of every sales order processing touch point, shedding light into who did what, when and where so users always know that the proper checks and validations took place.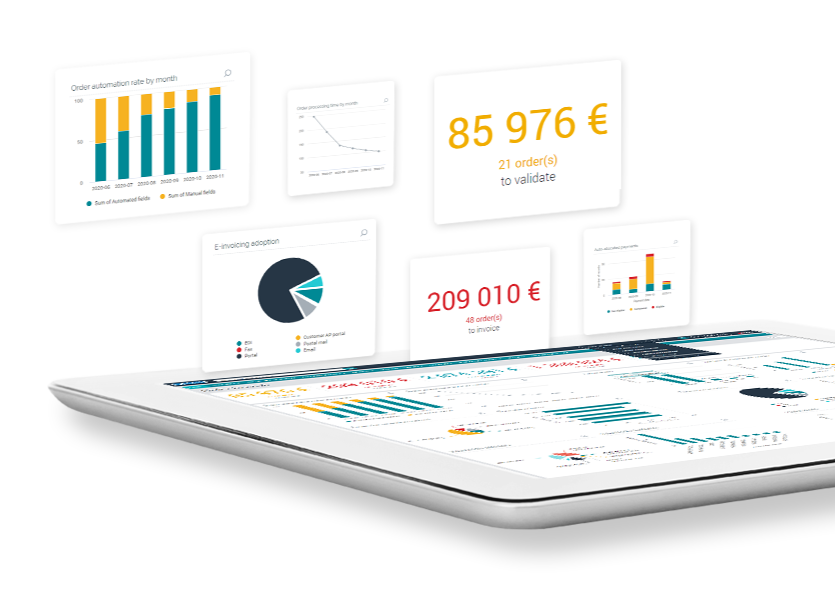 Optimising the End-to-End O2C Process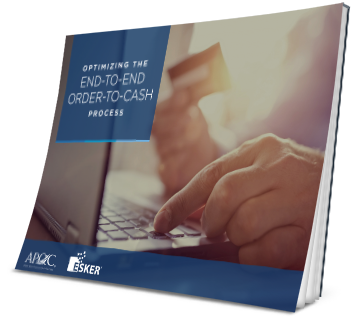 Are outdated O2C processes and siloed legacy systems affecting your company's customer experience and working capital? Discover best practices in APQC's latest report.
Tools to fuel your digital transformation.
Esker's no stranger to the order management automation game. In fact, we've been leading the way for decades, providing our customers with innovative and intuitive tools such as:
Esker's solution is powered by AI and RPA technology that optimises data recognition and eliminates order processing bottlenecks such as incorrect shipments, pulling orders from customer portals and more.
By applying the same rules to all orders, Esker addresses EDI issues such as leaning on IT to resolve exceptions. Additionally, Esker EDI Services simplifies setup of EDI connections with partners or networks.
Not only can Esker's solution work alongside any ERP system, it features standard connectors for SAP® and Oracle® EBS. In addition, a live web services connection lets users to check availability and prices.
Using the Esker Anywhere™ mobile app or portal, your customers and field sales team can place and track orders anytime, anywhere. Collaboration is also easy thanks to convenient chat tools.
Esker's Customer Inquiries Management solution acts as a digital assistant for shared email inboxes and helps customer service departments triage customer emails using automated inquiry classification and routing.
Collaboration & communication
Esker allows CSRs to clarify orders before fulfilling them via tracked conversations directly on the order that can include employees in sales, logistics or credit departments, as well as directly with customers.
SealesWinslow takes customer service to the next level using Esker Sales Order Automation.
Our team is already appreciating increased efficiency and productivity, and time savings in our peak season.
With Esker's order management automation solution, our team is more proactive and capable of handling change than they were before.
We have reduced the number of order entry errors due to manual handling and sped up processing times. As a result, we have been able to invest more time on higher-value tasks, which has led to an increase in customer satisfaction.
Discover what's possible for your business.