DRIVING VALUE IN THE AGE OF INTELLIGENCE
In 2019, businesses and consumers are now fully engulfed by technology and the data it both creates and captures.
Accounts payable's Big Data has the potential to become the next major force and catalyst for the profession. In fact, over the next few years, it is predicted that a new type of intelligence will emerge from this data that enables AP teams and their key partners to view their operations differently and by doing so, will force these same groups to develop new strategies and approaches.
For the AP leaders everywhere, this is the dawning of the Age of Intelligence. This new age presents those willing to seize it with unprecedented potential to transform not only how AP operates but more importantly, the true value and intelligence it can offer to the business.
Download this research report by Ardent Partners (sponsored by Esker)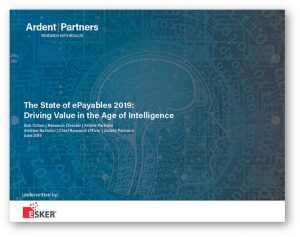 Contents highlights:
The State of Accounts Payable


This chapter looks at the continuing evolution of the role of the accounts payable function and its level of engagement and alignment within the enterprise today as well as the motivations and internal and external drivers that shape AP leaders' priorities and plans this year and beyond.
The State of

ePayables


This chapter highlights the role of Ardent's ePayables Framework in the AP transformation journey, and discusses how innovation is paving a path for the future of the AP function.

Best-in-Class Accounts Payable


This chapter provides accounts payable performance and operational benchmark statistics and a profile of Best-in-Class performers and their distinguishing characteristics and strategies.

Strategies for Success


This chapter presents a series of recommended strategies and approaches for finance and accounts payable leaders and their departments who are seeking to improve their operations and their results.